MEDICATION CART WITH LAPTOP CONFIGURATION
With removable medication cassette
Distribution of medications to patients in any hospital is a substantial part of the daily routine of any ward. By designing a dedicated cart that answers the needs of the medical staff, the medication distribution process can be enhanced without jeopardizing patient safety.
Secure removable medicine cassette

Multiple options for computer or monitor mounting
**Computers & Monitors Not Included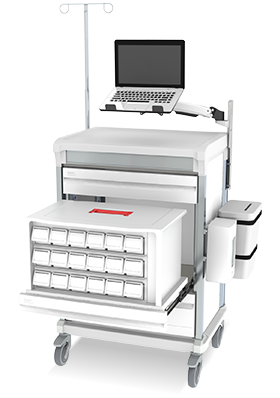 All-In-One Medication Cart
With removable medication cassette
The All in One Medication Cart contains all the great features of the Laptop cart but has multiple was to configure a larger monitor, or a more flexible laptop positioning thanks to a dedicated double jointed ergonomic arm with laptop cradle. Keyboard is still accessible in the cart through a laptop drawer, Contains the removable medicine cassette which is the heart of the Medication Cart system.
Secure removable medicine cassette
**Computers & Monitors Not Included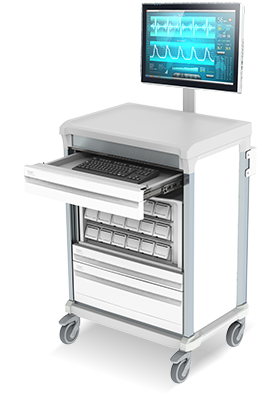 The cart is equipped with light-weight ergonomic removable medicationcassette, mounted on a set of full-length retracting telescopic slidesThe cassette can be equipped with 12 to 18 dividable medication bins. Each bincan be labeled and equipped with a label cover, so no need for sticky labels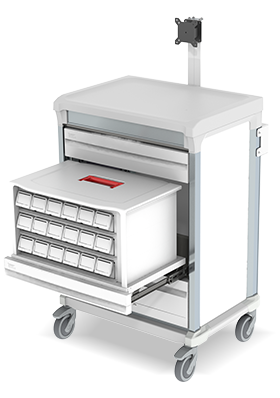 All-in-One computer adapter kit: APL-AIO-KIT
Drawers & 3 levels medicine cassette kit: APL-2-E-TDFMED3
Drawers & 4 levels medicine cassette kit: APL-2-E-TDF-MED4
Keyboard drawer: APL-KBRD-TRAY
Laptop stand kit: APL-LPTP-KI