EZ Swipe Leverages RFID Technology to Ensure Your Personnel are Never Without Their Critical Supplies.
Now your team can swipe their way to an efficient, virtually fail-safe inventory of the supplies they need for patient care. With EZ Swipe, a simple motion of moving a sliding mechanism attached to the storage bin left-to-right sends an RFID signal to materials management that supply needs to be restocked.
EZ Swipe works with the Pegasus Kanban (two-bin) system to ensure supplies are always on hand. When the front bin is depleted, the tag is swiped and the supply is replenished. It's that simple to save costs and optimize patient care!
The Swipe Process & How It Works
Clinicians need to quickly and easily locate supplies to provide faster, better patient care and efficient operation. By placing supplies in Pegasus Medical's customizable, high-density racks, medical facilities achieve new levels of efficiency and organization, eliminating wasted time that staff spend searching for what's not there. Modular, flexible racks meet an organization's individual spacing needs. Our storage solutions make inventory control an easy task that make sure integral supplies never run out. And our EZ-Swipe™ system based on RFID technology ensures a full complement of supplies ready in the storage room.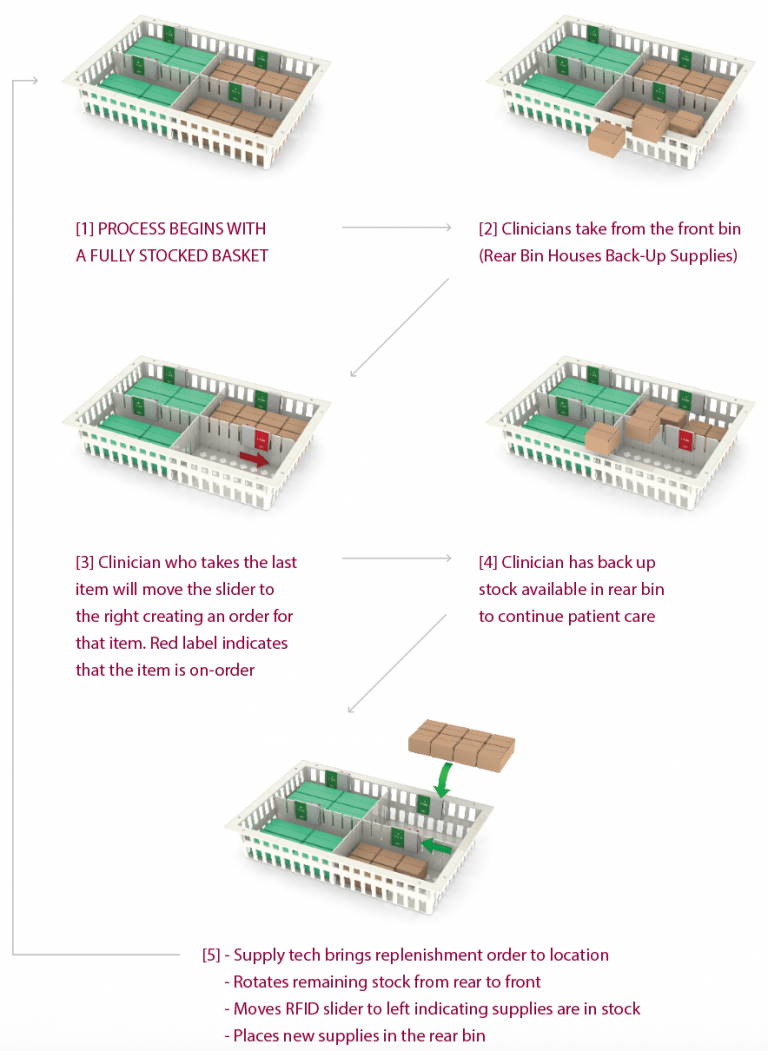 Pegasus Medical Concepts Inc. is a worldwide leader in providing successful medical storage solutions for today's leading healthcare organizations in the Americas, Europe, Asia, and Australia.
Our broad product line includes a wide range of medical storage and supply chain solutions, including specialized modular cabinets and carts for particular uses typically found in all healthcare facilities and environments. Pegasus also incorporates a range of technology solutions such as the Pegasus Kanban inventory management system, the RFID-based EZ Swipe™ system to ensure supplies are always on hand when they are needed and the NoTouch™ system that virtually eliminates human contact of surgical instruments from sterile processing until they are needed in the OR.
Healthcare organizations that incorporate Pegasus solutions result in quick ROI, saving money and valuable staff time, not to mention improves staff morale as a result of the new well designed, well organized storage and inventory systems that ultimately enhance patient care.