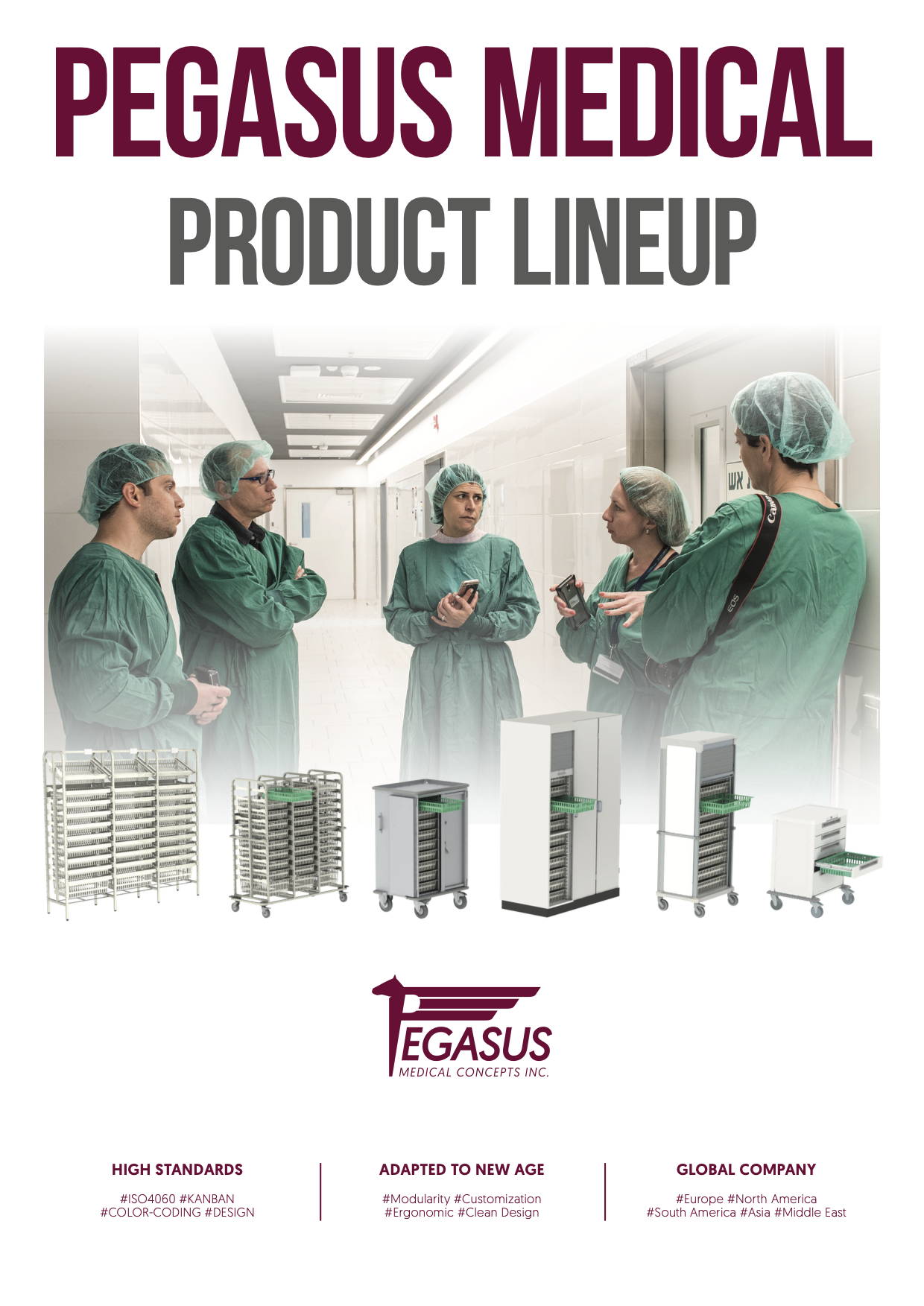 Welcome to our archive of catalogs and information materials, we have set ourselves the main goal of creating information catalogs and high visibility. Many catalogs come in different languages and by clicking on one of the language flags you can view and download the PDF.
The catalogs are divided into catalogs of information and working methods, catalogs of product families, and product pages that we constantly update for you!
Get the Full Pegasus Medical Product Lineup
This catalog covers all of the products and services that Pegasus Medical offers: the ISO6040 module method, logistics management methods, and preliminary information on each of the product families!
Get the Full Pegasus Medical Product Lineup
This catalog covers all of the products and services that Pegasus Medical offers: the ISO6040 module method, logistics management methods, and preliminary information on each of the product families!
Who Needs Pegasus Solutions?
Pegasus Medical meets the daily needs of not only your clinical staff, but also your facilities and storage management teams, achieving new levels of efficiency throughout your organization. Grab a catalog and learn more about our products.
Information and working methods catalogs
Cabinets - Medical supply cabinets
​We will enhance your facility design process and provide you with dedicated cost-effective storage solutions for each of the areas where disposables and medication need to be stored and dispatched.
APOLLO MEDICATION DISTRIBUTION CART
​Distribution of medications to patients in any hospital is a substernal part of the daily routine of any ward. By designing a dedicated cart that answers the needs of the medical staff, the medication distribution process can be enhanced without jeopardizing patient safety.
CSPS System- Container / Sterile Pack Storage System
​
Stainless Steel container/pack beds will not rust and are scratch-resistant. Unlike plastic or powder-coated shelves, our stainless steel beds will not release unwanted particles into your sterile environment.
HANDSFREE WASTE BASKET
​
During this time it is very important that you have the appropriate waste basket to maintain the hygiene in the various departments.
Waste bin step-on foot pedal for hands-free opening and closing, and can be ordered with an antimicrobial compound.
HYGIENE STATION WALL MOUNTED
​
The wall-mounted hygiene units are designed to be easily mounted at the entrance to any business or clinic. Clients, visitors, and staff, can sanitize their hands and wear gloves / face masks according to the updated covid19 regulation in each country.
HYGIENE STATION
​
Hygienic station, designed to be placed at each entrance to any business enable clients to sanitize their hands and/or to wear gloves before entering supermarkets, restaurants, banks,
movie theaters, etc…
DISINFECTION LIQUID BOTTLE HOLDER
​
-Injected durable
-Polypropylene
Washable
-Multiple mounting options
-Simple, hidden, click to open mechanism
BROSELOW PEDIATRIC HANDLES SET
​
The set includes 8 handles each in a different color
and complies with the Broselow standard. The new Pegasus Handle Set is designed to give you the ability to fit a basic Ecoline cart into a pediatric emergency cart by simply replacing the handles...
GLOVEBOX HOLDER
​
-All plastic box, abs injected
-Easy to clean and wash
-Clear marking of glove size
-Multi-mounting options
-Fits large variety of box sizes
-Stable fixation of the box, rear...
SALUS ALUMINUM OPEN
TRANSPORTATION CARTS
​
The salus open transportation cart is designed to provide a light weight durable cart for transportation of medical supply around the hospital campus and in between nearby campuses.
HERA ALUMINUM TREATMENT
AND SERVICE CART
​
The Hera cart is lighter than most steel carts, flexible and easily maneuverable. It is built with an aluminum structure, HPL working surface and dual push handles. The new design prevents the growth of bacteria by using a fully sealed structure, therefore it is very easy to clean.
HEMODIALYSIS SERVICE TROLLEY
​
Our dialysis service trolley is designed to assist dialysis medical staff by providing quick, easy and
clean access to all the necessary equipment for connecting/ disconnect patients to a dialysis machine.
APOLLO FLEXTEK DISINFECTION UV-C LIGHT MOBILE CART
​
Eliminate bacteria and viruses with The Flextek disinfection UV-C light mobile cart. Easy and effective disinfection of almost all materials - even those that cannot be washed traditionally with soap and water...
APOLLO WITH ABS DRAWER PULLS ​
​
The Apollo cart line is now available with drawer pulls combined with tambour doors/glass doors or solid doors. Using telescopic slide drawers, working efficiency can be increased – items that are often used should be placed in the drawer pulls...
ISTAND TABLETS/AIO
ROLL STANDS
​
High frequency disinfection of mobile station is becoming even more important during the pandemic we are experiencing globally.
LABEL HOLDER FOR RACKS
Our new label holder improves item identification and implementation of color-coding.
RFID ELECTRONIC LOCKS
​
A lock that is installed in the APOLLO and ECOLINE systems that allows inductance management with LockView software. Allows quick opening by employee card & opening by code if card is not accessible.
ROLL STAND FOR CONNEX® SPOT MONITOR
​
New roll stand for the welch allyn connex® spot monitor device at an extremely competitive price, available in europe for quick delivery.
ROLL STANDS FOR ALLINONE
& LAPTOP
​
​Roll stands for laptops, all-in-one and other small monitors, stable and lightweight, with a 4-wheel base for smooth and comfortable transport. The cart is delivered flat packed in a lightweight packaging in order to minimize freight cost...
APOLLO PPE MOBILE STORAGE CART
​
During the covid-19 there is an increasing demand for higher control over PPE inventory.
ECOLINE - ERGONOMIC PUSH HANDLE
​
Medical teams often suffer from occupational damages due to long working hours. Any effort to improve usage using ergonomic solutions reduces occupational damages, and contribute to the wellbeing of the medical staff.
HIGH RESISTANCE
MODULES & ACCESSORIES
​
Protect your surgical tools during transportation to/from the procedure rooms to the central sterilization unit.
DRAWER PULLS FOR MEDICAL FURNITURE
Create a harmonized look for your medical furniture.