Kanban is a workflow management method for defining, managing and improving services. It aims to helps maximize your efficiency.
Pegasus has developed new ergonomic basket handles with interchangeable colored strips, enabling clinicians to quickly locate supplies without VERY LITTLE TOUCHING & MOVEMENT.

By placing supplies in appropriate categories and applying unique colors to each category, the clinicians are provided greater visibility.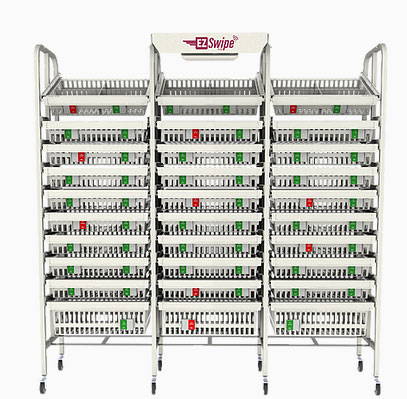 The Pegasus Color Coding system is comprised of four different color marking strips (red, green, yellow and blue) that are adhered to the handles of Pegasus trays and bins. The vibrant colors are immediately recognizable, even at a distance.
BENEFITS OF COLOR CODING:
-Improves visibility, nursing satisfaction and improve patient care

-Clinical trials show that nurses spend up to 20% more of their time searching for supplies instead of focusing on patient care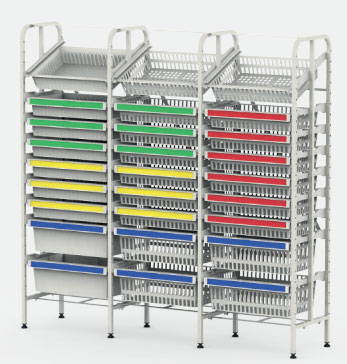 EZ Swipe Leverages RFID Technology to Ensure Your Personnel are Never Without Their Critical Supplies.
Clinicians need to quickly and easily locate supplies for better patient care and efficient operations. Studies show that nurses spend at least 5-20% of their time retrieving supplies.
Now your team can swipe their way to an efficient, virtually fail-safe inventory of the supplies they need for patient care. With EZ Swipe, a simple motion of moving a sliding mechanism attached to the storage bin left-to-right sends an RFID signal to materials management that a supply needs to be restocked.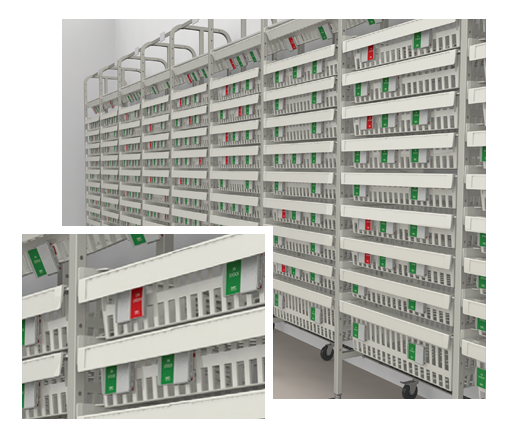 EZ Swipe works with the Pegasus Kanban (two-bin) system to ensure supplies are always on hand. When the front bin is depleted, the tag is swiped and the supply is replenished. It's that simple to save costs and optimize patient care!
With our well-designed and implemented supply storage and inventory management systems it will dramatically decrease the time spent by nurses searching for and retrieving supplies
01
Process begins with full stocked basket.
02
Clinicians take from the front bin (rear Bin Houses Back-Up Supplies)
03
Clinician who takes the last item will move the slider to the right creating an order for that item. Red label indicates that the item is on-order
04
Clinician has back up stock availble in rear bin to continue patient care
05
Supply Tech Brings Replenishment Order to Location
Rotates Remaining Stock from Rear to Front
Moves RFID Slider to Left Indicating Supplies are in stock
Places New Supplies in the Rear Bn