"Pegasus has helped our materials department clean up and organize our supply storage areas. With their high-density basket storage and Kanban inventory system, we have been able to arrange our supplies in a logical manner making it easier for both nurses and supply techs to locate supplies. During this process, we have been able to reduce our on-hand inventory dramatically while increasing nursing satisfaction."

AVP Supply Chain
A Major NJ Health System
"Since implementing the Pegasus 2-Bin system we have seen an overall reduction in the manpower required to service our 900 bed, 22-floor facility. A few years back when the economy had taken a downturn we were under severe budget constraints, the Pegasus system made it possible for us to reduce our materials support staff by reassigning people to other responsibilities without sacrificing the service levels to our customers. Pegasus has been an important partner in our supply chain success."
Supply Chain Director
A Large Medical Center in the Northeast

"By using the Pegasus Kanban inventory system we have been able to reduce our overall labor by almost 70%. Prior to Pegasus we would have pick lists that were 4 pages long, since Pegasus was implemented the pick lists are now between 1 to 1-1/2 pages. We were able to achieve this while reducing the stock levels on most of the supplies we are responsible for."
Supply Chain Manager
A Leading Hospital in the Pacific Northwest
USNS MERCY & USNS COMFORT
Our installations on the US Naval Hospital ships, Mercy and Comfort, consist of close to 1000 high-density storage racks. By using Pegasus racking system throughout the ships in locations such as the Patient Wards, OR Suites/Sterile Core and more, both vessels can deploy with enough supplies to service from 250-1000 beds with less than 48 hours notice.
Pegasus was chosen by the US Navy to design and install a Kanban inventory (2-Bin) system in combination with high-density storage racks and baskets. In doing so, Pegasus enabled 10 Naval Hospitals to reduce the amount of labor required to manage their med-surg supply levels, reduce their overall on-hand warehouse inventory, as well as increase patient care efficiencies. The US Naval Hospitals and facilities completed as of March 2017 included USNH Bremerton, WA; Charleston, SC; Corpus Christi, TX; USNH Guam, USNH Lemoore, CA; PAX River, MD; USNH Pensacola, FL; USNH Oak Harbor, WA; USNH Okinawa Japan; USNH Yokosuka, Japan.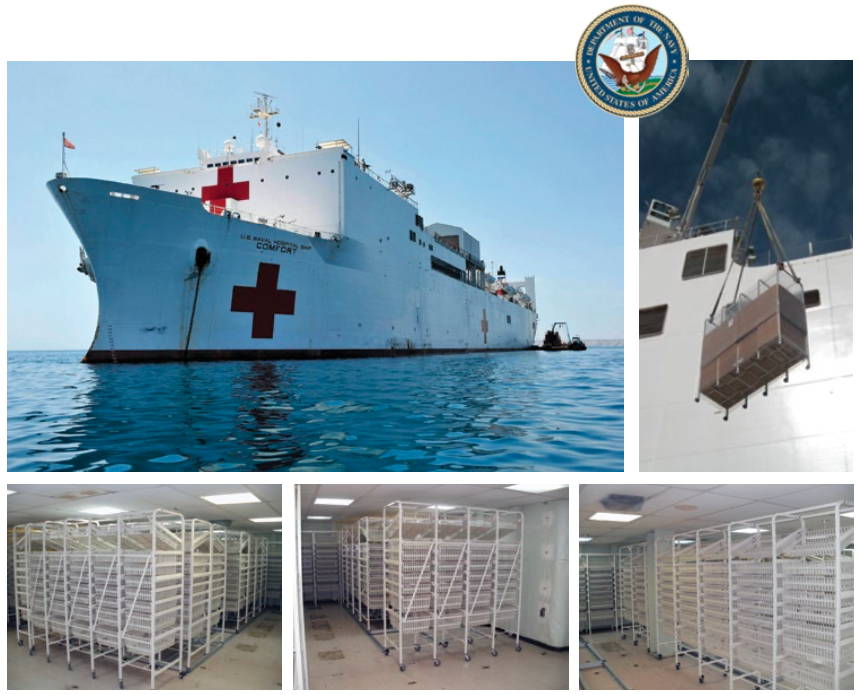 PENN PRESBYTERIAN MEDICAL CENTER - University of Pennsylvania
Presbyterian is the latest Pegasus Kanban project to include our new color-coded handles. The Kanban system enables the Materials Management Department to reduce its on-hand inventory levels and labor hours while improving the supply chain workflow. This new color-coded ergonomic handle methodology adds an enhanced a visual element to the system, providing both clinicians, and supply chain personnel with a quick and easy way to locate supplies.
All supplies are categorized and assigned to a specific color grouping that is consistent throughout the facility. As Presbyterian is part of a university teaching environment, the color-coded handles allow for traveling nurses and residents to feel comfortable in the supply rooms regardless of what department they may be assigned to.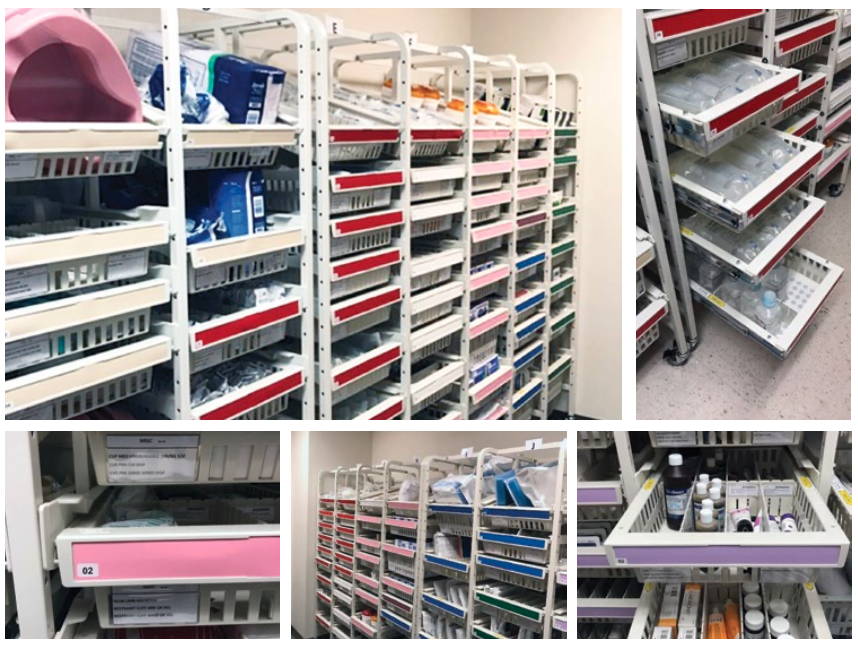 Before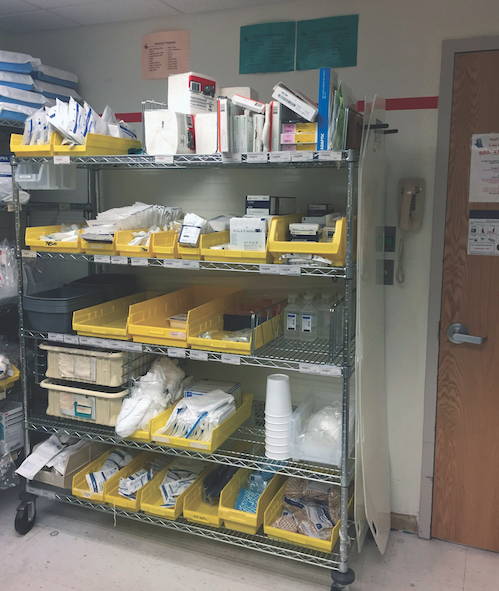 After